Newman Program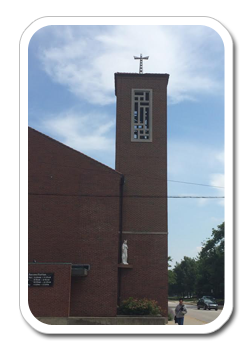 St. Thomas Aquinas, Purdue University
What are Newman Centers?
Newman Centers are residence and Catholic ministry centers at non-Catholic universities throughout the world. These centers provide pastoral services and ministries to their Catholic communities, in particular to the Roman Catholic student population within universities. However, Christians of other denominations often come and participate as well. A variety of university and parish related meetings and social events take place at the centers, as well as weddings, anniversary celebrations, baptisms, masses and funeral receptions.
Newman Centers were named in honor of Cardinal John Henry Newman and were inspired by Newman's writings encouraging societies for catholic students attending secular universities. The first Newman Center was established in 1893 at the University of Pennsylvania.
What Can You Do to Help the Newman Programs
Saint John Paul II called for a period of renewed efforts to spread the Good News throughout our nation and the world. One of the most vital and effective means of evangelization is the Catholic presence on our college campuses throughout the various Newman Campus Ministry Programs. Let us continue these prayers in his memory.
Today, college students are exposed to many ideologies that are incompatible with the Gospel. This is why it is more important, now than ever before, that we have an active and vibrant Catholic outreach Newman Ministry Program. Without your support these ministries of the Catholic Church in colleges and universities throughout Illinois would not be possible.
Here's What You Can Do To Help
Encourage your college son or daughter, grandson or granddaughter, nephew or niece to join the Newman Campus ministry.
Make a contribution to the Illinois knights of Columbus Newman Apostolate Fund.
Pray for the success of our students, our Campus Ministers and the Ministry Program.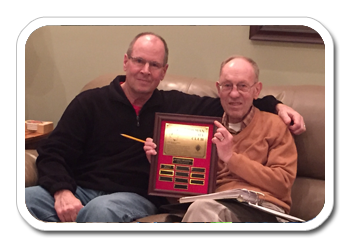 Bernie Kreiner presenting Michael Vinciguerra with the Century Club plaque
Newman Century Club
One might imagine my shock when I received the Newman Century Club award. Beyond my surprise I was humbled and grateful. Given my own undergraduate experience and tenure at USF I have felt and seen the profound impact Catholic higher education has in the formation of our future generation (even when students sometimes do not recognize it). It creates a culture on a campus that is hard to duplicate
Likewise strong Newman Societies on non-Catholic campuses instill and integrate a learning experience within the context of faith formation. Supporting them is a magnificent way to share our faith in a tangible manner. Hence the meaningfulness of this recognition by my brothers in faith has special meaning. Thank you sincerely.
In the words attributed to St. Francis of Assisi, peace and all good.
Michael Vinciguerra