Community Activities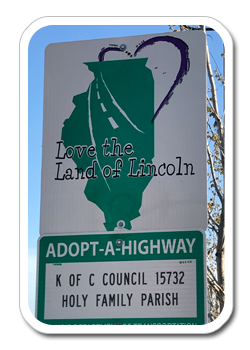 Adopt-A-Highway
The Illinois Adopt-A-Highway (AAH) programs brings citizen volunteers into partnerships with the Illinois Department of Transportation (IDOT) to pick up trash and keep our roadsides clean. The program also educates and encourages people to stop littering. Through the cleanup efforts of more than 10,000 Adopt-A-Highway volunteers throughout Illinois, visitors and tourists have a better first impression of our state.
Holy Family Council 15732 participates in the Illinois Adopt-a-Highway program. Our section of highway is from the intersection of Black & Route 59 to Seil & Route 59 in Shorewood. Each year we coordinate four cleanup days to keep this section of highway clean. Please do your part and help us keep things this way by not littering. Our next road cleanup will be on Saturday June 23, 2018 at 9am. 
Learn more about the Illinois Adopt-A-Highway Program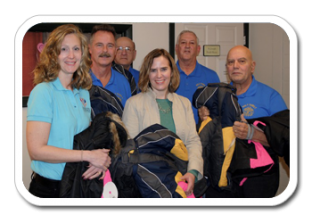 Coats For Kids
The Knights of Columbus Coats for Kids program was started to help kids in need. We have partnered with Holy Family Outreach ministry to help provide warm winter coats to children in the community. This year we were able to contribute 24 coats to the cause. These coats are distributed to families in the area who can't afford to provide coats to their children.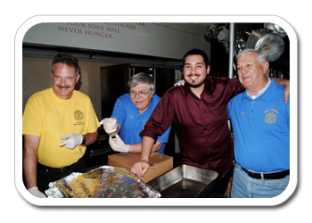 Daybreak Dinner
Four time a year our council helps serve dinner at the Daybreak Center in Joliet. Daybreak Center operates 24-hours a day, 365 days a year and provides emergency housing, and supportive services to individuals and families who are homeless. Our next scheduled dinner at Daybreak will be Sunday  August 12, 2018. For information regarding our next Daybreak Dinner please contact Bob Selak.
Learn more about Daybreak Center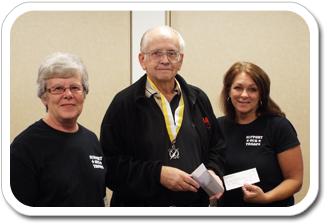 John Thompson presenting a check from council #15732 to
Operation Care Package representatives
Operation Care Package
The Knights of Columbus Council 15732 has been sponsoring Operation Care Package weekends at Holy Family since the Fall of 2014. Thank you to all those who donated and assisted with this successful initiative. Due to your generosity Council 15732 was been able to make continued donations of gifts and money to help support Operation Care Package. 
Date and Time
Council 15732 will be sponsoring an Operation Care Package weekend on March 13th and 14th 2021. Please bring your donations to Holy Family in Shorewood before and after all masses to help support our troops.  
About Operation Care Package
Operation Care Package is about supporting the men and women who bravely answer the call to duty for you, myself, and our country. OCP's support is what motivates the troops to complete their mission. Just knowing that Americans care about their well being is a major factor to the success of the troops and for them to ultimately come home safely to their loved ones.
Learn more about Operation Care Package